Truckee has a rich and diverse food scene with plenty of palate-pleasing options. Over the past few years, several fantastic restaurants have been established in Truckee with locally focused casual menus and fine dining options. Many of Truckee's renowned food establishments also serve as impeccable spots to enjoy a view, catch a breeze, and escape the sun's rays on an intimate patio. All in all, no matter what kinds of cuisine you're drawn to, you're bound to taste (or sip) something you love in Truckee.
If you're new to town, just visiting, or a long-time local and you just want to relax with a good glass of wine, you must check out these six staple Truckee restaurants.
Pianeta Ristorante
www.pianetarestauranttruckee.com
10098 Donner Pass Rd | 530-587-4694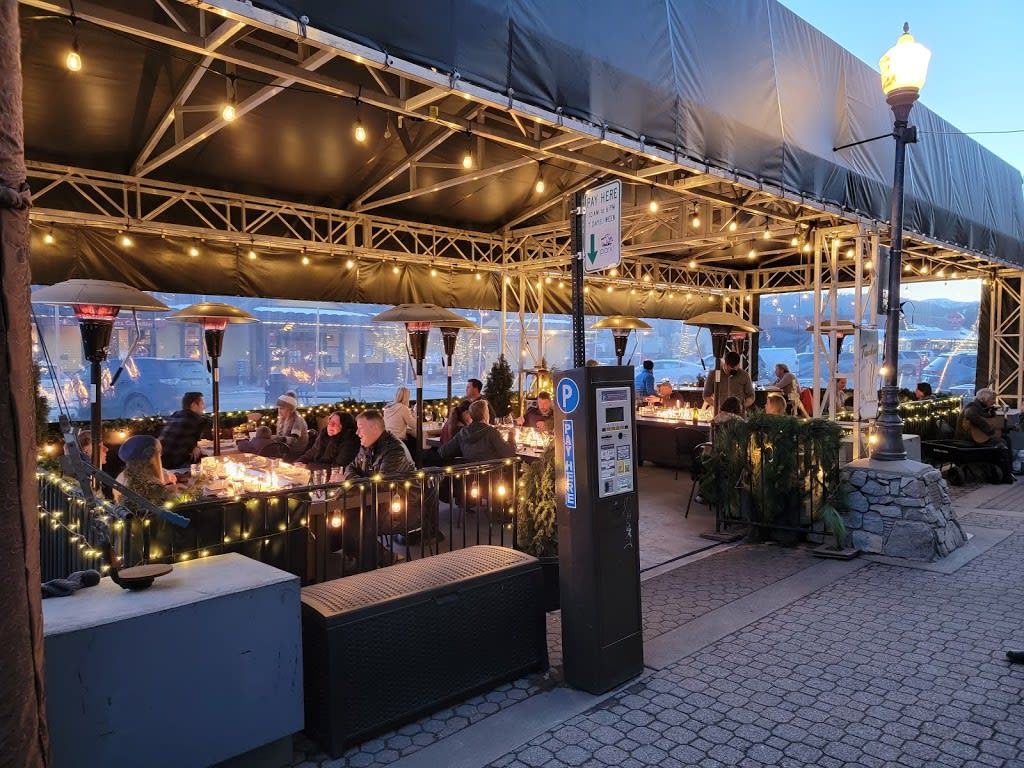 Walk by Pianeta Ristorante in downtown Truckee and you may not notice it at first. But trust us, this charming northern Italian restaurant boasts an incredible intimate ambiance. The menu features housemade pasta and sauces paired with craft cocktails and Italian wines. We encourage you to pull up a seat at the dark wood bar and enjoy Happy Hour from 5-6 pm. Be sure to call for a dinner reservation as tables can be booked out weeks in advance.
PJ's at Gray's Crossing Golf Course
www.tahoemountainclub.com/pjs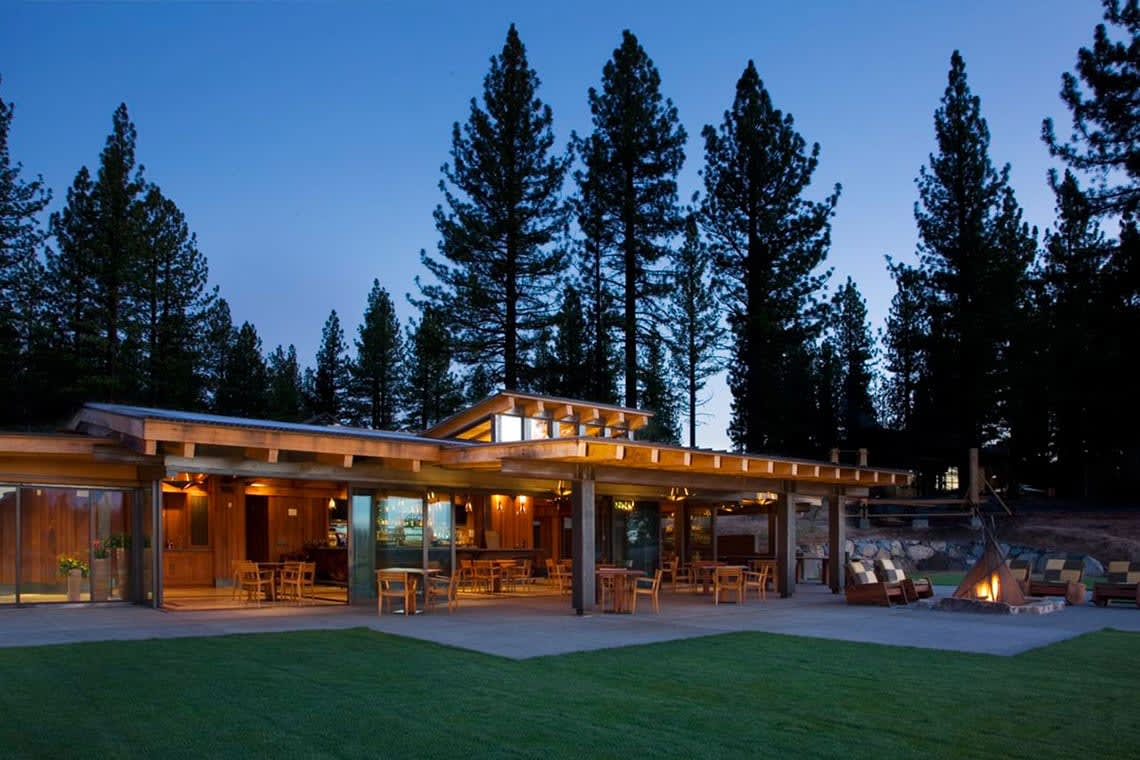 Nestled among the towering pines in Gray's Crossing is home to a hidden gem. Featuring a sophisticated interior and romantic outdoor terrace, PJ's at Gray's Crossing is so much more than just the 19th hole at Gray's Crossing. The indoor/outdoor dining provides an airy atmosphere with breathtaking views of Mt. Rose. The expansive menu features everything from comfort food favorites to elegant entrees and is enjoyed by locals, families, and golfers alike. PJ's offers something for the entire family with sporting events on multiple televisions, an event lawn for the kids to run around, and classic bar tops to have a pint and good conversation with some of Truckee's friendliest bartenders.
Restaurant Trokay
www.restauranttrokay.com
10046 Donner Pass Rd | 530-582-1040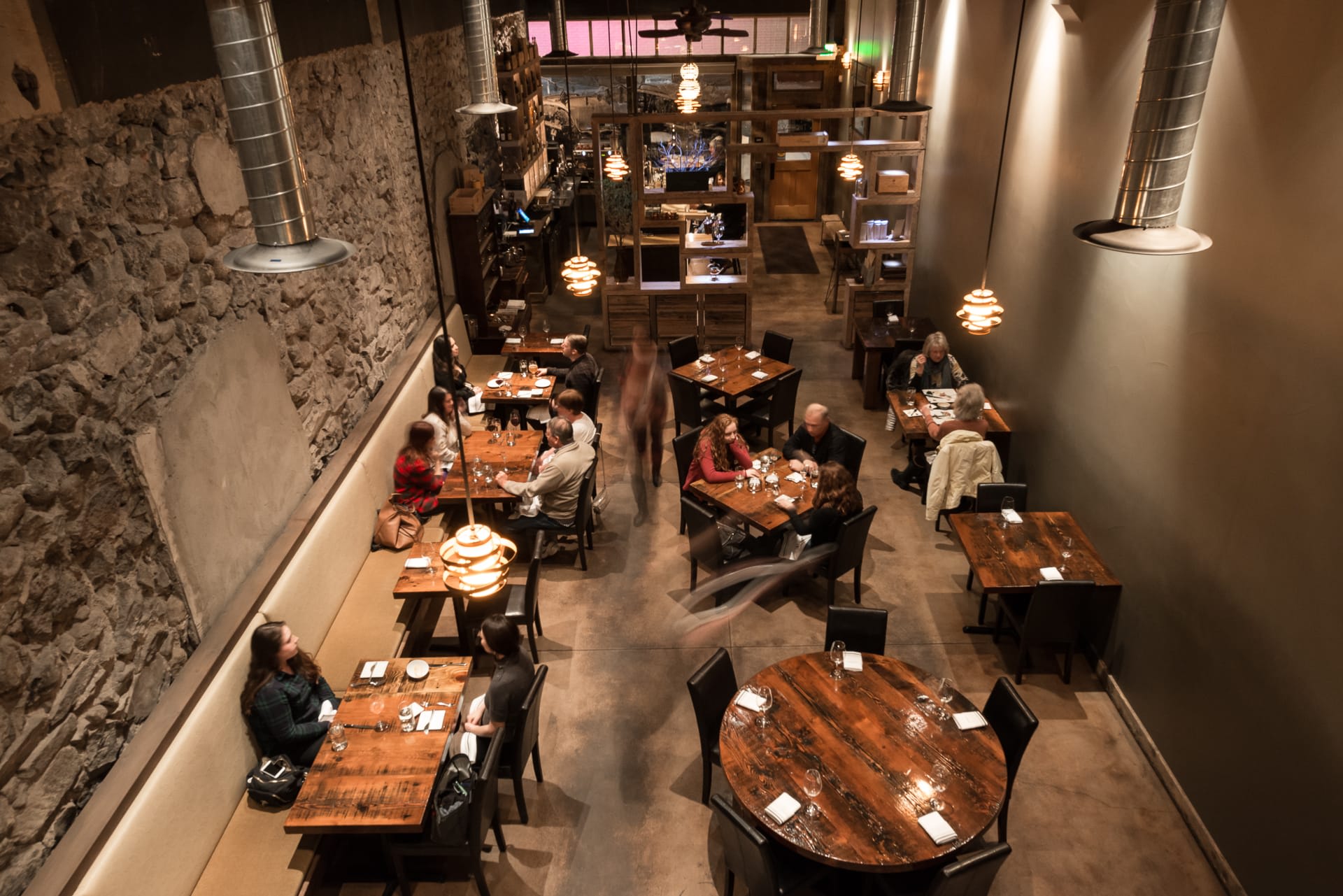 Sophisticated and stylish. Restaurant Trokay is an upscale "modernist" establishment located in downtown Truckee, where chef-owners John and Nyna Weatherson dream up prix-fixe menus with imaginative ingredients and artful flavor combinations. The Sierras (both the landscape and the ingredients) are the inspiration for the tasting menu here. Take, for example, their infamous starter courses "Snow and Ice" and "Fire and Smoke." The wine list is extensive, with a wait staff trained in pairing the selections to the cuisine.
Stella Truckee
www.stellatruckee.com
10918 Brockway Rd | 530-582-5655
Fresh and seasonal. Stella Truckee is the on-site restaurant for the Cedar House Sport Hotel. They are committed to fresh, wholesome, and flavorful food, sourcing only the highest quality produce and products regionally while prioritizing producers within a 100-mile radius of Truckee and North Lake Tahoe.
The Sawyer
www.schaffersmill.com/dining
9055 Heartwood Dr | 530-214-7385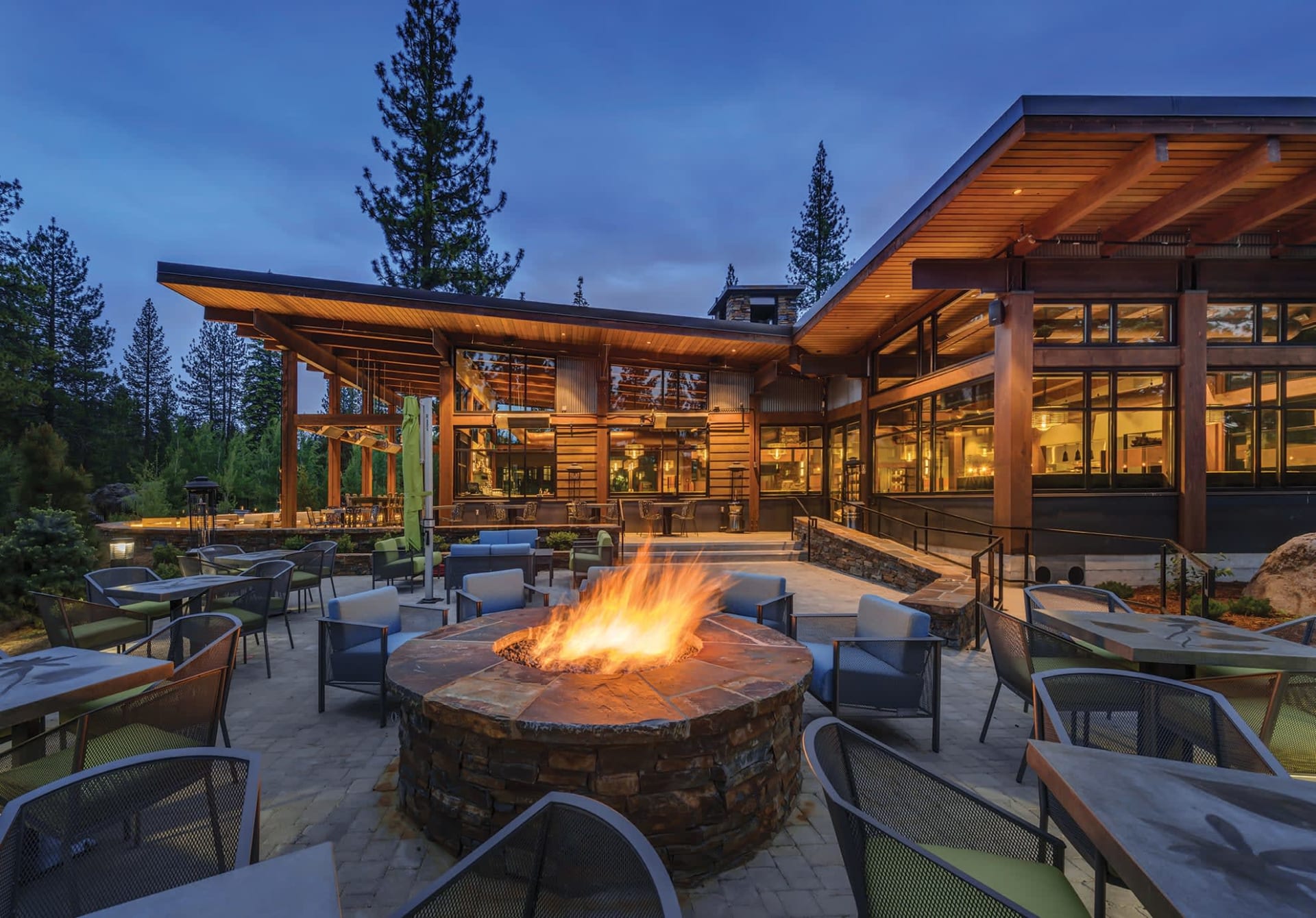 Located in the community of Schaffer's Mill, The Sawyer is designed to encourage socializing indoors and out, bringing members of the community together in a fun and casual environment. The Sawyer embraces the surrounding views of Northstar California's Lookout Mountain and the Schaffer's Mill golf course. The all-day menu features locally crafted selections of shareable, freshly-prepared salads, generous sandwiches, and delicious entrees.
Truckee Tavern and Grill
www.truckeetavern.com
10118 Donner Pass Rd | 530-386-4911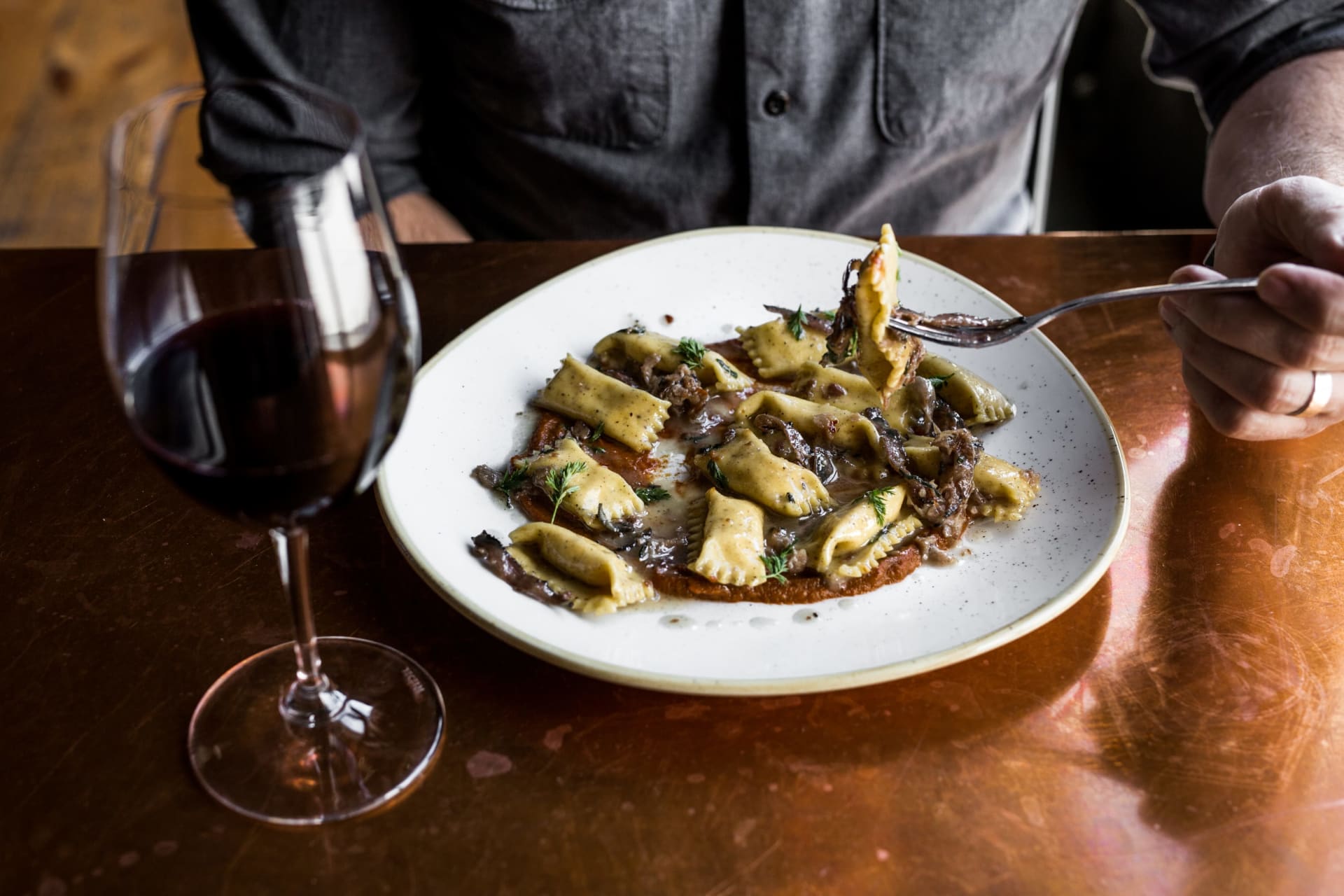 Truckee Tavern & Grill lives up to its name. As a tavern, the bar shines with a curated selection of spirits, beer, and wine. If small-batch whiskeys and gins make you smile, don't miss their seasonal craft cocktail menu. As a grill, the restaurant's steaks and chicken entrees are sublimely cooked on a wood-fired grill. Their second-story patio in downtown Truckee offers impressive views on long summer nights.
Be sure to visit these other favorite Truckee restaurants:
1882 Bar and Grill at River Street Inn
www.riverstreetinntruckee.com
10009 East River St | 530-550-9222
Alibi Ale Works
www.alibialeworks.com
10069 Bridge St | 530-536-5029
Bar of America
www.barofamerica.com
10042 Donner Pass Rd | 530-587-2626
Burger Me!
www.realfreshburger.com
10418 Donner Pass Rd | 530-587-8852
Casa Baeza
www.casabaezamexican
10004 Bridge St | 530-587-2161
Como
www.comotruckee.com
10164 Donner Pass Rd | 530-587-6274
Cottonwood
www.cottonwoodrestaurant.com
Brockway Rd (10142 Rue Hilltop) | 530-587-5711
Drunken Monkey
www.drunkenmonkeysushi.com
11253 Brockway Rd | 530-582-9755
FiftyFifty Brewing Co.
www.fiftyfiftybrewing.com
11197 Brockway Rd | 530-587-2337
Fuddhism
www.fuddhism.com
10412 Donner Pass Rd | 530-536-4025
Great Gold
www.greatgoldtahoe.com
11025 Pioneer Trail | 530-587-2167
Jax at the Tracks
www.jaxtruckee.com
10144 West River St | 530-550-7450
Manzanita
www.ritzcarltonhotels.com/en/hotels/california/lake-tahoe/dining/manzanita
13031 Ritz Carlton Highlands Ct | 530-562-3000
Moody's Bistro, Bar & Beats
www.moodysbistro.com
10007 Bridge St | 530-587-8688
Morgan's Lobster Shack & Fish Market
www.morganslobstershack.com
10087 West River St | 530-582-5000
Old Town Tap
www.oldtowntaptruckee.com
10164 Donner Pass Rd | 530-563-5233
Red Truck
www.redtrucktahoe.com
10356 Truckee Airport Rd | 530-587-1394
Thai Delicacy
www.thaidelicacy.com
11253 Brockway Rd, Ste 101 | 530-550-1269
The Lodge –Tahoe Donner
www.tahoedonner.com/amenities/dining/the-lodge
12850 Northwoods Blvd | 530-587-9455
The Pub at Donner Lake
www.thepubatdonnerlake.com
15963 S Shore Dr. | 530-448-8550
Zano's Family Italian & Pizzeria
www.zanos.net
11401 Donner Pass Rd | 530-587-7411