Historic downtown Truckee is a fabulous place to spend an afternoon wandering in and out of Truckee's shops that line Donner Pass Road (Truckee's charming main street). Each store offers unique styles and hidden gems you won't find anywhere else. You'll find everything from art supplies and specialty socks to custom jewelry and books written by local authors.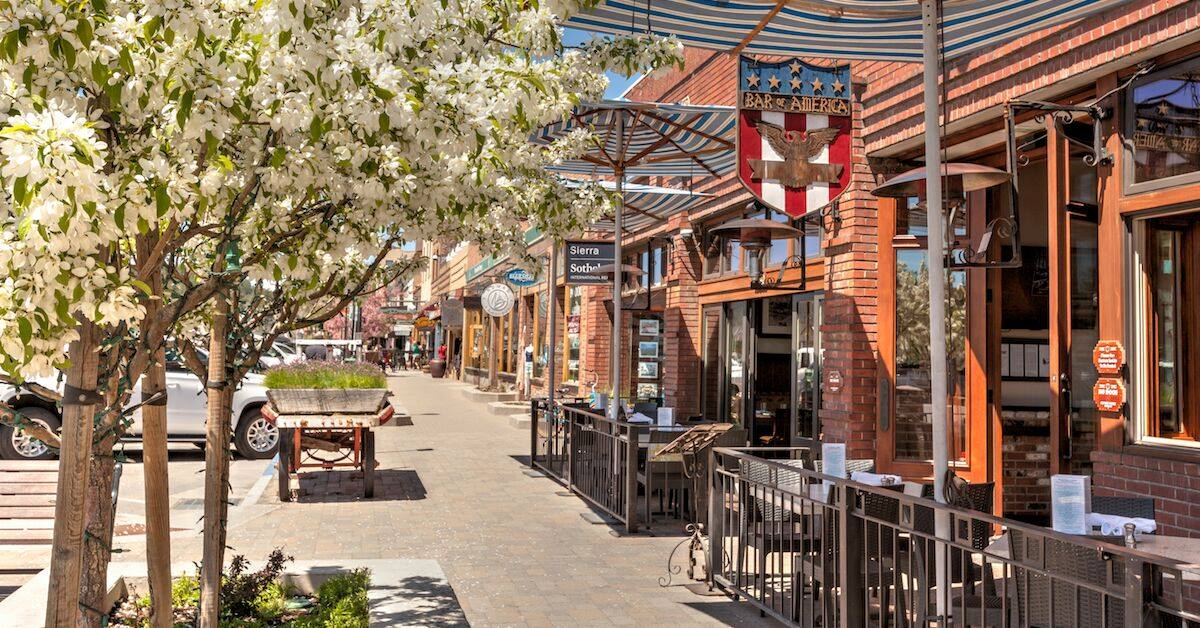 No worries if you're not a shopaholic. You can pinpoint exactly what you're looking for at Truckee stores and get a quick in and out experience. But for people who consider shopping a sport, you can hone your skills to a fine precision here.
Read our Downtown Truckee Shopping Guide below and browse a few of our favorite Truckee shops.
Atelier Truckee
Art and Crafts
ateliertruckee.myshopify.com
10098 Donner Pass Road | 530-582-5500
Atelier Truckee is a place for tactile living that connects artists, creatives and the community through workshops, yarn, art and craft supplies. With a little of everything and a whole lot of inspiration, Atelier is for those seeking out a new art form to those who already know their craft like the back of their hand.
Bespoke
Home Goods / Gifts
bespoketruckee.com
10130 Donner Pass Road | 530-582-5500
Bespoke brings "slow" products into its store in downtown Truckee. That means Bespoke's shelves feature one-of-a-kind items made by artists and other creative folks. Products that are made where they are designed. Bespoke offers an eclectic selection of gifts, stationery, handmade jewelry, skin and soap products and a variety of clothing accessories for women. Men will find shaving products, custom flasks and knives. The younger set is covered with baby clothes and handmade wooden baby toys.
Cabona's
Clothing and Accessories
cabonas.com
10100 Donner Pass Road | 530-587-3161
More than 100 years ago Cabona's was where Truckee's rough-hewn residents shopped for general merchandise geared toward mountain living. As the decades have passed, the needs of residents and visitors have changed and so have Cabona's offerings. The area's oldest retail store now offers sportswear and accessories for women and men inspired by and designed for the great outdoors. Look for brands for men like Pendleton, Kuhl, Levi's, Reyn Spooner, 34 Heritage, Dakota Grizzly, Saxx underwear and Bugatchi Italian shirts
Cooking Gallery
Kitchen Supplies
cookinggallery.net
10084 Donner Pass Road, Truckee, CA
(530) 582-8303
Foodies will love browsing the many offerings at the Cooking Gallery in downtown Truckee. The store's two levels are packed with gourmet cooking utensils, cookware, small appliances, cookbooks and more for preparing great meals. The Cooking Gallery is a perfect place to pick up gifts or for kids who like to create in the kitchen.
High Camp Home
Home Decor and Furniture
10191 Donner Pass Road | 530-582-6866
Primarily a design-build firm that specializes in modern mountain design, High Camp Home has won many awards nationwide for its impeccable design services, which run from full furniture installations to complete interior architectural designs to designed builds. The store in downtown Truckee has furniture, lighting, rugs and home goods. Whether you are looking to design or furnish your dream vacation home in Truckee-Tahoe or you want to return from your Tahoe vacation with a little piece of mountain style, High Camp Home is your place.
Jack + Emmy
Children's Store
10191 Donner Pass Rd #3 | 530-536-3163
Inspired by her children, a passion for fashion and life in the casual, California-cool Tahoe region, Erica Farrell opened Jack + Emmy in downtown Truckee. The shop brings comfortable, stylish, and well-made children's clothing and accessories to Truckee and little ones everywhere. Unique brands include: Ryan & Rose, Kate Quinn Organics, Tenth & Pine, Quincy Mae, Sol Angeles, Rylee + Cru, Chewable Charm, Ella + Mila, Old Soles, Haven Kids, L'oved Baby, Plan Toys, and Klee Naturals.
Kalifornia Jean Bar
Women's Clothing and Accessories
kaliforniajeanbar.com
100692 Donner Pass Road | 530-550-9933
As the saying goes, "When in Rome, do as the Romans do." If you're visiting California and want to dress like a stylish Californian, then this is a must-stop. Kalifornia Jean Bar is your destination for all the latest California fashions for men and women. Brands include Mother, Apiece Apart, Spiritual Gangster, Frame and Agolde.
La Galleria
Art Gallery
lagalleriatruckee.com
10112 Donner Pass Road | 530-587-5444
From sculpture, wall art and table art to jewelry, La Galleria in downtown Truckee curates a large and eclectic selection of creative offerings. Mirrors, lighting and floral arrays and vases adorn the shop alongside a variety of other home décor items and clothing. A specialty at La Galleria is water features. Customers will find a large selection of fountains and falls made from stone, copper, wood and other materials put together to soothe the soul.
Lorien Powers Studio Jewelry
Jewelry
lorienpowers.com
9932 Donner Pass Rd | 530-563-8191
Lorien Powers is a studio jewelry artist who specializes in creating unique, one-of-a-kind engagement rings, wedding bands, and a limited-production line of jewelry in an industrial contemporary style. Working primarily with golds, Mokume' Gane and silver, Lorien designs individual works of art featuring Montana Sapphires, Conflict-free Diamonds, semi-precious stones and minerals in her studio located in downtown Truckee.
The Sock Parlour
Gifts and Accessories
thesockparlour.com
10064 Donner Pass Road | 530-214-8496
With a name like The Sock Parlour, you just know this shop is worth looking into. One of Truckee's newest shops, they offer specialty socks as well as a wide range of other unique gifts and items, including plant-based apothecary, craft chocolate, gourmet coffee and mugs and more.
Tahoe Oil & Spice
Gourmet Food
tahoeoilandspice.com
10091 Donner Pass Road, Suite B | 530-550-8857
Tahoe Oil & Spice has more than 25 premium extra virgin and flavor-infused olive oils and more than 30 premium and flavor-infused balsamic vinegar. Their olive oil is from the northern and southern hemispheres, and their flavor-infused balsamic vinegars and traditional balsamic vinegars are all from Modena, Italy. Look for other gourmet treats like honey, jams, spices, rubs and delicious pasta. Pre-made or customizable gift baskets are available.
Word After Word Bookshop
Bookstore
wordafterwordbooks.com
10052 Donner Pass Rd | 530-536-5099
Word After Word Bookshop is a place of gratitude for literature in all its forms. A newer shop in downtown Truckee, Word After Word fills a much-needed bookstore void. In addition to paying homage to the importance of books and reading in general, they also focus on local publications and authors. The space is welcoming, bright and cheerful. Enhancing the space, even more, is a corner dedicated completely to children and the fun of learning.
Photo Credit (all three photos): Erskin Photography via Visit Truckee Tahoe