Thinking of making some upgrades to your Redwood City Home? Ready to fully embrace the Redwood City Mantra "Climate Best by Government Test?" Let The Oldham Group help get you started with these three ideas that will add tremendous value and happiness to your home and lifestyle.
Add accordion glass patio doors
These multi-panel, floor-to-ceiling sliding doors usually run the length of the wall facing your private outdoor space, creating wow-worthy visuals for anyone who walks by. Its accordion design creates a large and seamless opening between the interior and exterior of your home. Available in a wide variety of styles,
accordion glass doors
are well insulated so you can control when you want to experience a merge of the indoors and outdoors. And the natural light it lets through is a great gentle alarm clock and a way to stay connected to the rhythm of nature.
This space-saving feature creates an open and airy feeling in any room it's installed in. It also provides an opportunity for design, as you can choose from a variety of built-in blinds or shades to control sunlight and privacy. 2. Create that dreamy primary bath you see in magazines
Now is the time to add everything you've ever wanted to a primary bathroom. Invest in a
waterfall shower
with perfect water pressure or adjustable settings for an extra luxurious experience. A
deep-plunge tub
comes in a variety of styles to match your existing bathroom—go with claw feet or something more modern. For a fully relaxing experience, a jacuzzi tub with jets is a perfect way to soak with your favorite scented soap.
A bathroom experience wouldn't be complete without a
double vanity
, either for couples or for somebody who likes the extra space. A wall-to-wall vanity is a great way to take advantage of bathroom space, and a wide sink, extra counter space, and mirrors to match will elevate your bathroom's appearance. Change the entire feel of the room with a re-tile, from warm wood or a polished marble look to tiles with a graphic design or something with a matte or glossy finish; new tiles might be just what you need to create the bathroom of your dreams. The Oldham Group knows these upgrades are both a benefit to you in the present and an investment if you decide to sell, as buyers will pay more to have them.
Upgrade the kitchen with state-of-the-art, luxurious appliances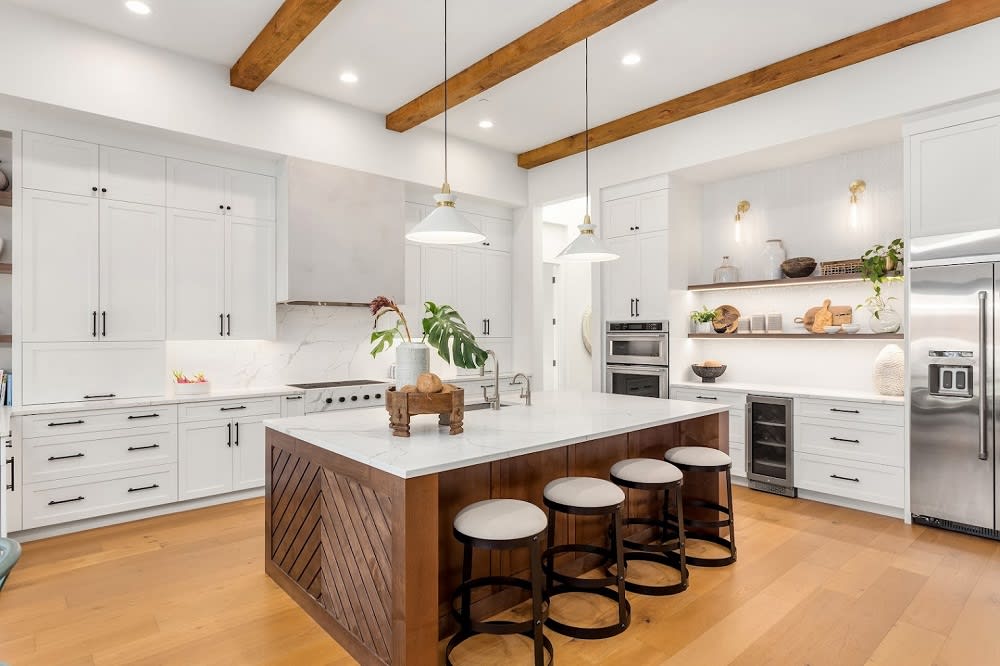 For foodies, Francophiles, and those who want a standout kitchen centerpiece in their home, a
Lacanche Range's
European flare is a classy and elegant must-have. Available in a range of colors, its unique style makes cooking and hosting an exciting and fun opportunity.
For caffeine addicts or coffee lovers of any degree, a built-in Miele coffee station is both a practical and luxurious addition to a kitchen. Its sleek design is great for a morning alone or a brunch gathering. For nights in, a wine refrigerator is best at keeping your reds, whites, and rosés all together at a temperature not dependent on a regular refrigerator's needs.
To add to the aspects of your existing kitchen, lean into your personal style with a beautifully tiled
backsplash
—whether that be glass, stone, or tile; patterned, multicolored, or neutral-toned. An
island with a sink
is a great way to utilize a kitchen's middle space and create more countertop space for an open-feel and symmetric design, depending on your kitchen shape and size. If you choose to install an island, this is also a good opportunity to revamp your kitchen with new,
high-end countertops
. Marble tops, quartz, durable and wide-color-ranged granite, rich soapstone, or sleek stainless steel will all elevate your kitchen and make it the luxury experience you deserve.
Remodel your outdoor patio or wooden deck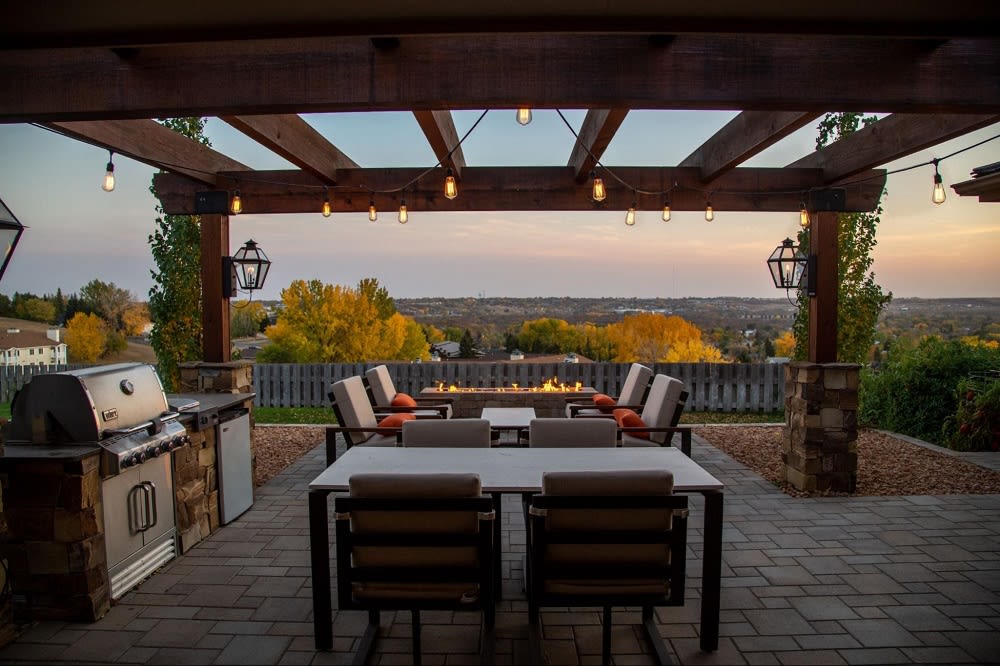 Your Redwood City home would be incomplete without a place to enjoy the outdoors. Create the perfect oasis in your
patio
with plant and rock landscaping, flagstone stairs and a stone or brick design for the floor, gravel or stone-lined grass paths, and shade such as a roof or fabric overhang attached to your house or a wooden beam Pergola. For an upraised outdoor space like a
deck
, redo the wood floor and railings or add a luxurious rug for a pop of color, build a swinging daybed under a ramada, and make the most of the space by planning areas with stone, brick, or wood.
Furniture
is a must for a patio and deck, and although you want it to be quality and long-lasting, you also don't want to compromise style. Options like teak wood sets, cushioned aluminum sectionals, or weather-resistant wicker sets provide style and functionality. Center your furniture around a
firepit
for a cohesive layout. From metal lattice designs to rustic brick and stone circles to a woodsy-smelling, charcoal-and-wood flame to a smokeless propane burn, a firepit is a great way to bring people together and make the most of your home's luxury upgrades.
The final items you need for your outdoor areas are an
outdoor kitchen
and lighting. A stainless-steel, the built-in grill will elevate your patio or deck, and countertops made of limestone and more polished stones, alongside flagstone, wooden, or marble flooring; and a gazebo, pergola, or extended roof for shade completes a kitchen. To keep cold drinks close at hand, adding a small fridge is a great idea. To enjoy your outdoor spaces at night,
lighting
below and above can transform the ambiance, such as outdoor wall lanterns, pathway lights, and globe bulb string lights.
Feeling good about upgrading your Redwood City home?
The Oldham Group is glad to provide lasting, luxury upgrade ideas that elevate your home and your experience living in it. If you're still looking for a home to make your own, begin your search with Oldham real estate. For help in your home buying experience,
contact The Oldham Group
to guide you through the process.