The last days of summer are slipping away fast, and there are still so many treasured memories you can make with your family. With its plethora of pristine beaches and scenic coastlines, the Santa Cruz area is the perfect place for a restful vacation before the flurry of fall arrives.
There's always lots to do and see on these exquisite shores and sparkling waters. Enjoy a refreshing swim, fly a kite, share a hearty picnic and laugh your way into the new season with family and friends. With activities that range from roasting marshmallows to surfing the waves, you certainly won't get bored at any of these marvelous beaches. Because of their prime location to nearby cities and access to recreational activities, you and your crew can easily spend an entire day playing in the sun.
If you're dreaming of basking in the fresh air, reading your book under an umbrella, or seeing marine life first-hand, you'll definitely want to explore one of these terrific seashores.
1. Santa Cruz Main Beach
With its brilliant blue water, sandy shores, and palm trees in the distance, it's easy to see why
Santa Cruz Main Beach is such a well-loved and popular destination. There are lots of fun things to do such as going for a pleasant walk, playing an invigorating game of volleyball, building a sandcastle with the kids, or going for a refreshing swim in the water.
Near the beach's edge, you will also discover the vibrant Santa Cruz Beach Boardwalk and its attractions, games, and shops. Perhaps one of its most exciting features is the amusement rides and thrills also located here. You and your kids can make memories together as you ride roller coasters, take a spin on the carousel, enjoy some delicious funnel cake and play on the beach. And for the shoppers among us, there are lots of unique stores on the Boardwalk to enjoy as well.
However you choose to spend your visit, you will find plenty of reasons to fall in love with Santa Cruz Main Beach.
2. Harbor Beach
Located in the Live Oaks area of Santa Cruz, Harbor Beach is known for its soft-sand beaches and sparkling waters. With its easy access, parking space and prime location, this family-favorite beach is great for swimming and exploring the shoreline. Enjoy activities such as volleyball, kayaking, and sailboating. If you're feeling hungry after a long day of adventure, you can stop by one of the restaurants and eateries near the shore. There is an assortment of eateries, diners, and sit-down restaurants for your enjoyment. Harbor Beach is across the water from the Walton Lighthouse, Santa Cruz Main Beach, and Seabright Beach.
3. Mitchell's Cove
One of the best characteristics of Mitchell's Cove is its dog-friendly atmosphere, which makes it an ideal destination for dog lovers and dog owners of all ages. Located right off West Cliff Drive, this elegant city beach is a great place for taking photos, soaking up the sunrise or sunset, and, of course, taking your beloved canine on a walk. There are lots of fun ways to enjoy the day here with family and friends. The shoreline's width depends on the season and rising tides, so guests are advised to plan their visit accordingly.
4. Cowell Beach
If you want to play an exciting game of volleyball or try your hand at surfing, Cowell is exactly the beach for you! It's known for its abundance of sand volleyball courts, and it's also ideal for beginner surfers. When the conditions are right, surfers flock here to ride the "beginners wave." This gorgeous beach, with its glimmering water and the luxurious Dream Inn on its shores, is an amazing place for any visit. So what are you waiting for? Grab your surfboard and come on down!

5. Waddell Creek Beach
The dazzling Waddell Creek Beach is a part of the Big Basin Redwoods State Park. The northernmost beach in Santa Cruz County, it is known for its beautiful, untamed feel. Its wide beaches and sand dunes are perfect for exploring. Additionally, it is renowned for being a great place for windsurfing and kiteboarding. If you want to connect with nature and make your day extra-special, you will definitely want to pay a visit here. You won't want to miss out on exploring the rugged beauty of Waddell Beach! Trust us, this is the perfect place for your next great adventure.
6. Seabright State Beach
The half-mile-long Seabright State Beach is exactly the place for those who want to catch the beautiful sunset or meander quietly along the shoreline. Although it's a smaller beach, it's a great spot for birdwatching, taking your beloved dog for a walk, or catching a thrilling glimpse of whales in their natural habitat. You also have the opportunity to go fishing or paddleboarding here as well. If you arrive with friends, how about gathering them around a campfire, roasting some tasty marshmallows, and telling stories? Seabright Beach promises an exciting visit filled with warm memories and exciting experiences.
7. Capitola Beach
The incredibly popular Capitola Beach is favorite surfing and swimming area. With its background of colorful buildings and deep blue waters, it is an amazing place to enjoy all summer has to offer. Take part in recreational activities like birdwatching, fishing, or playing a rousing game of volleyball in the sunshine.
After enjoying your day at the beach, you can stop by one of the many nearby restaurants for a scrumptious dinner. After that, check out the neighboring attractions and shops. Because of its great location and many things to do, Capitola Beach is the ideal place to spend the day. During the warmer months, you can enjoy live music, art showcases, movie showings, and concerts. If you want a fun, artsy, experience, make plans to come to Capitola Beach. Don't forget to bring your volleyball and sunscreen!
8. Seacliff State Beach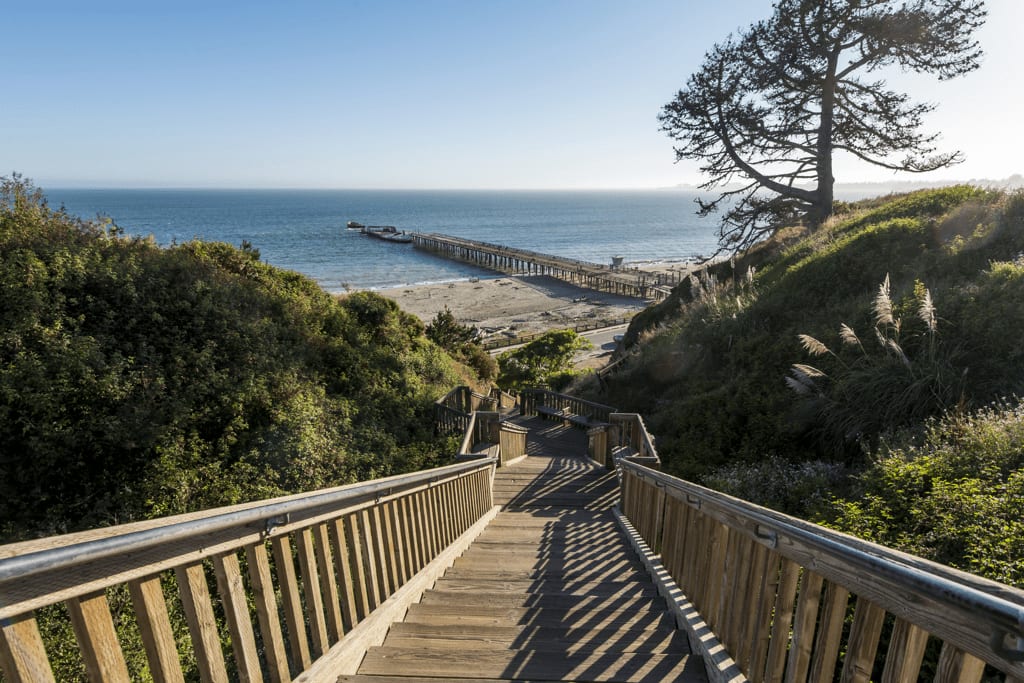 Credit: Seacliff State Beach
Looking for a great place to hold a fun, delicious picnic? How about heading to Seacliff State Beach? Here you'll find covered picnic facilities where you can munch on your sandwich and bask in the beautiful views of the surrounding scenery at the same time.
Located inside a state park, this vibrant beach is the perfect place to relish the day. You can go for a swim, explore the coastline or go for a walk on the long stretch of beach. With its well-kept and easy-to-use walkways, Seacliff is an incredible place for people of all ages to enjoy a pleasant walk in nature.
The park is currently open to the public. However, visitors are encouraged to check the website for updated hours and information before they arrive.
9. Natural Bridges State Beach
Open from 8 a.m. to sunset, Natural Bridges Beach features amazing views of the craggy hillside and glistening water. This 65-acre state park in Santa Cruz is a great place for adventuring on a guided hike, taking your dog for a walk, or simply soaking up some rays of sunshine.
One of the most popular and well-loved aspects of Natural Bridges are the tide pools, which are full of vibrant sea life. Here visitors can admire the colorful, diverse ocean creatures in their natural habitats. Another intriguing characteristic is the natural bridge that forms its way across the beach. This is what gives the beach its striking name and has earned it a well-deserved reputation for being a must-see destination.
10. Twin Lakes State Beach
The gorgeous Twin Lakes State Beach is known for its sandy shorelines and the exquisite white lighthouse that glimmers in the distance. It is an ideal beach for swimming, birdwatching, hiking, and picnicking. People of all ages will have a fun day snapping photos and exploring this breathtaking beach. While you're here, you can admire the sun setting on the water, listen to the sound of the waves, and relax on your towel. This is a magnificent place for quiet reflection or a fun day's outing with friends. Whatever your fancy, Twin Lakes Beach is sure to inspire your mind and capture your imagination.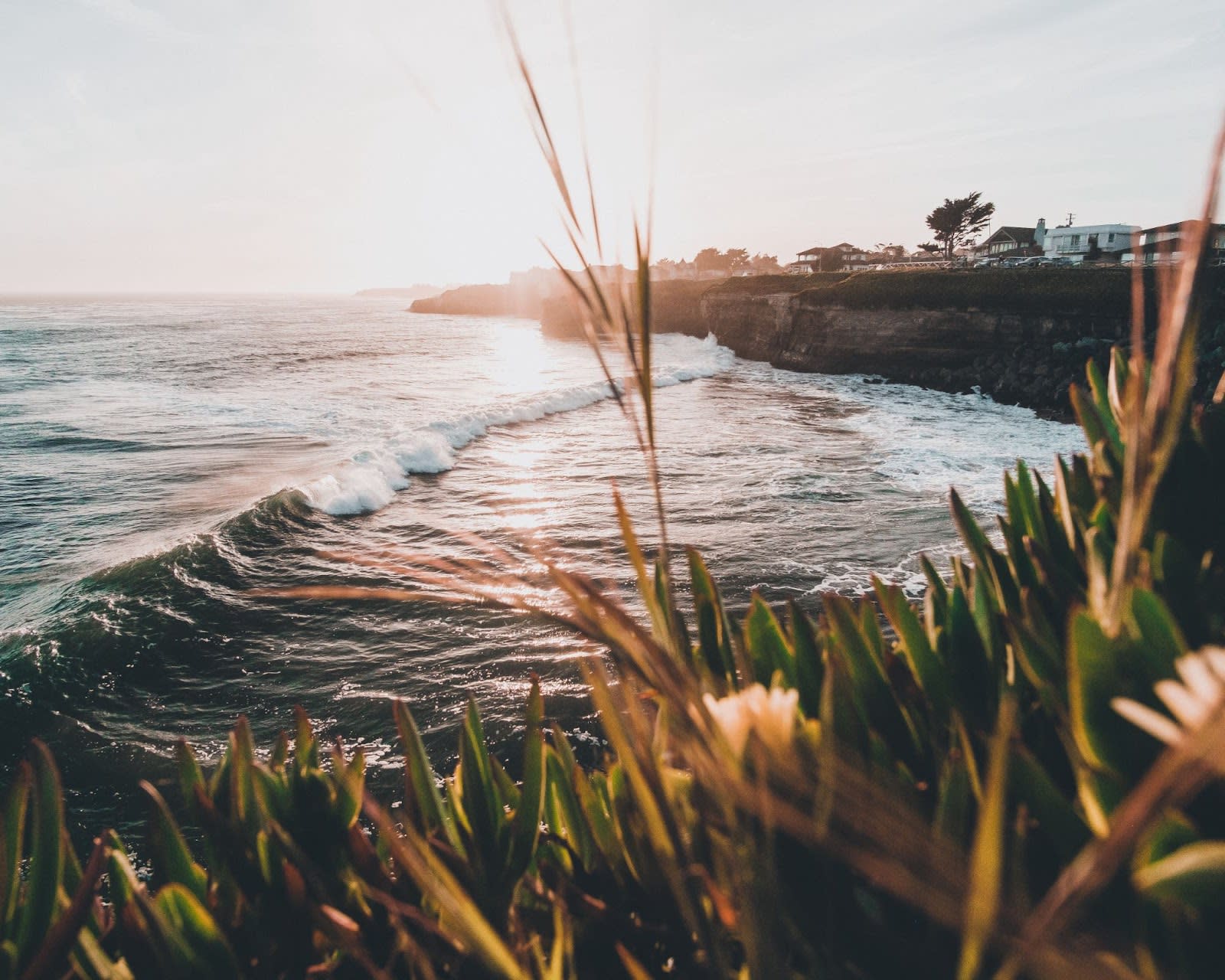 For more information on Santa Cruz real estate, contact the Oldham Group. Their top-notch real estate agents will be able to answer any questions you may have and help you find exactly what you are looking for.